Yamahei Porcelain
Arita Porcelain Industry is proud of its high of skills and technique, which have been developed step by step by our predecessors in the 400-year-long Arita Porcelain history. Yamahei Porcelain has been pursuing and creating "New Innovative Styles of Arita Porcelain" so that such high level of skills and technique can naturally decorate and match our modern way of life. One of such new styles is Egg Shell.
"Egg Shell" is Yamahei's flagship. In the process of developing Egg Shell, they successfully revived one traditional technique called [Ran-kaku-de], meaning egg-shell technique, which once went extinct from Arita Porcelain's tradition.
By using their own special technique developed for Egg Shell, they were successful in creating their own unique porcelain texture that is beyond the feel of ordinary porcelain.
The momoco bear, decorated with such wonderful texture, gives you the true pleasure of touching it.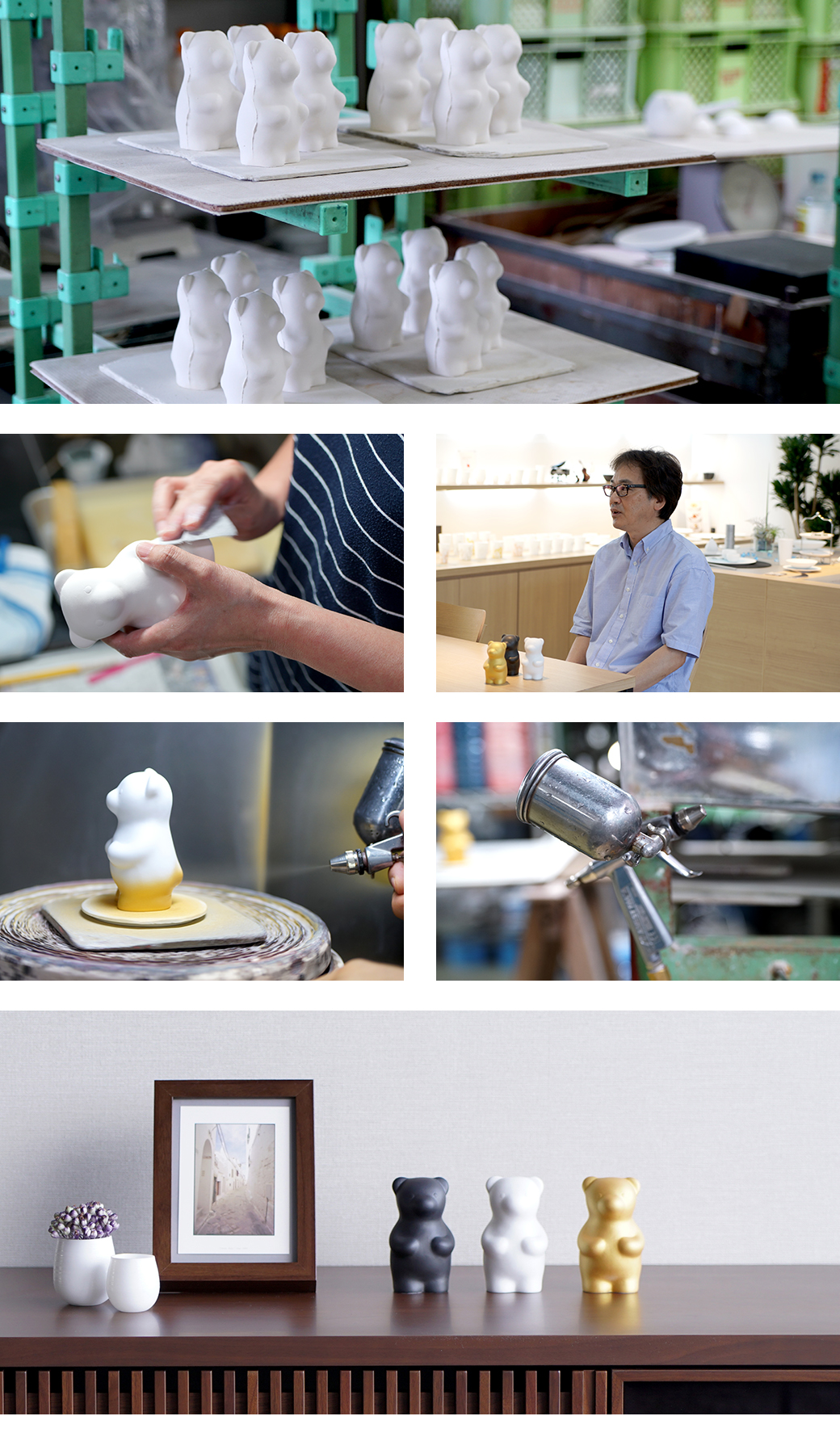 Kanezen Kiln
Kanezen Kiln is the third generation kiln workshop. When its president took over his family business, he came across a wonderful earthenware work, which inspired him greatly to create porcelain works. Since then, Kanezen Kiln has been creating new types of dishes and tableware for household and professional uses, which are attractive to young generation. Kanezen Kiln follows the tradition of Arita Porcelain as their technical base while creating highly innovative new styles.
Experienced potters at Kanezen Kiln amazingly decorated the momoco bear with its own beautiful glaze.
Through their unique technique seen in the beautifully glazed momoco bear, anyone can feel a wider variety of colors and high quality expressed on Arita Porcelain.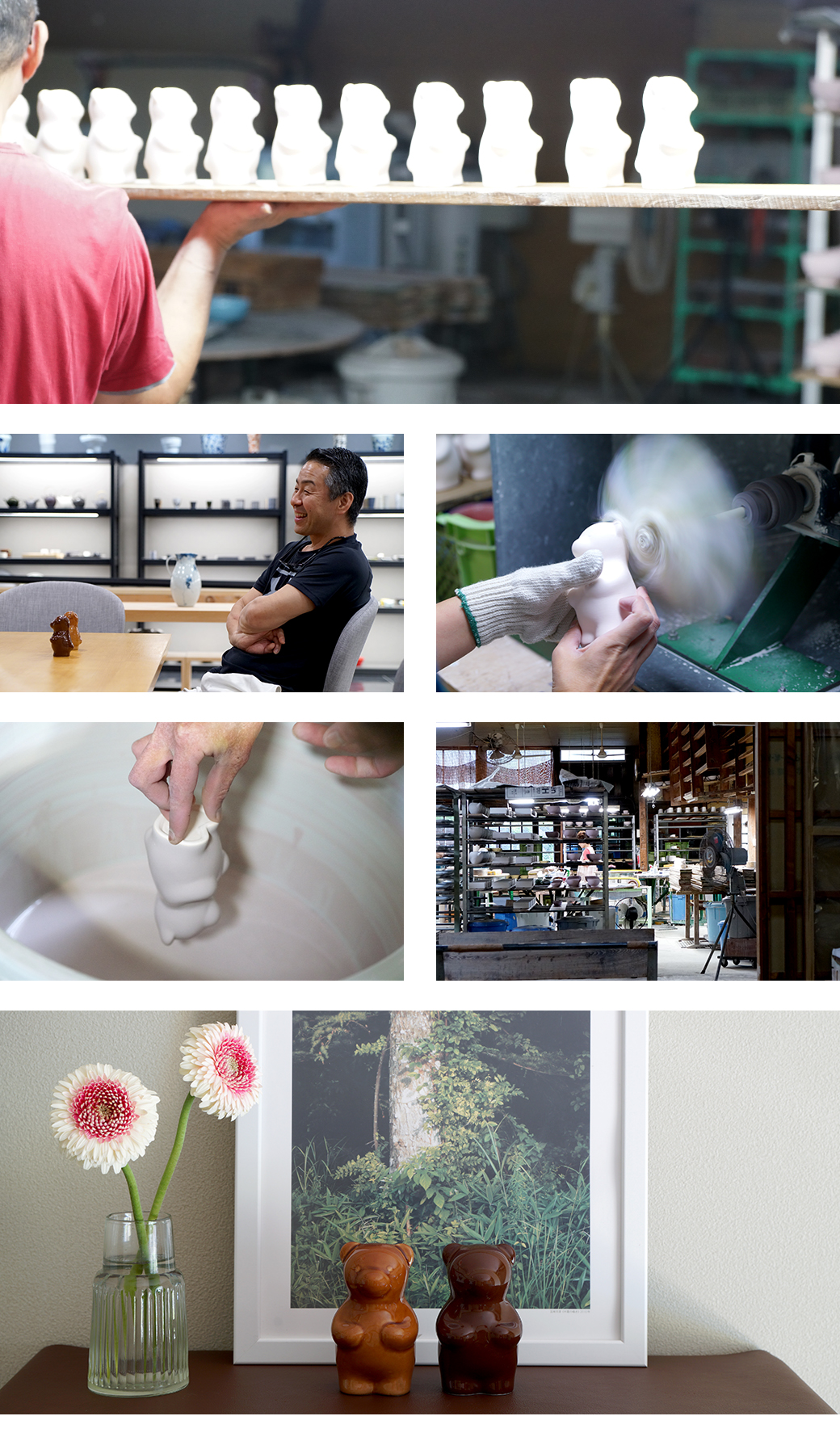 Takasho kiln
 Overlooking a steep mountain, Mt. Kurokami, Takasho Kiln is located in Yamauchi-cho, Takeo City, next to Arita-cho. After setting up their own big study theme titled "Reproduction of Ko-Imari (Old-Style-Imari ware)," Mr. Koyanagi of Takasho Kiln visited various kiln remains repeatedly for further study on Ko-Imari and trained himself as a potter very hard day and night. Then, Mr. Koyanagi has successfully reproduced the colors and patterns of Ko-Imari by adding his own technical twists to the modern techniques and materials. Also Mr. Koyanagi has reproduced the wonderful texture of Ko-Imari.
 As you see, the momoco bear finished by Mr. Koyanagi is decorated with Thin Lapis Lazuli Glaze (pastel-colored blue), which is known as a legendary glazing technique, and Milky White Glaze (milky white). This is the wonderful outcome of his spirit of exploration and techniques.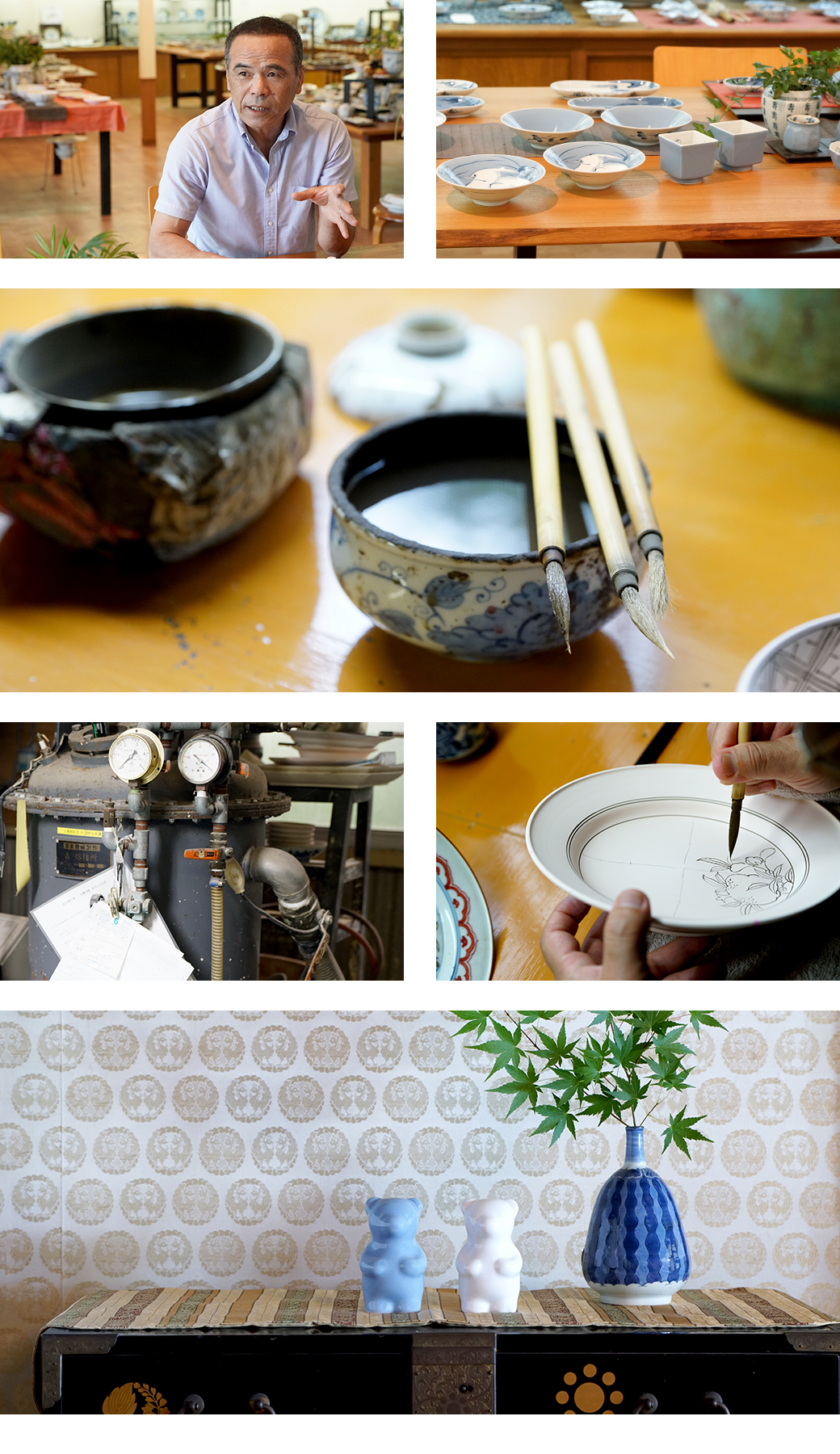 Soekyu Seitosho
 Soekyu Seitosho, (based in Yoshida District, Ureshino City, a little bit away from Arita-cho) is strongly proud of its own unique technique: The use of the gradation and shading of deep-blue pigment called gosu or deep-blue pigment to decorate Arita Porcelain works.
 Recently, Soekyu Seitosho created its new brand named GOSU after so many trials and errors, based on their original craftsmanship and their designer's innovative perspectives. GOSU is based on 1) the careful use of deep-blue shading, 2) dami-traditional technique of overlaying porcelain with thick brush fully soaked with gosu and 3) innovative designs. Their GOSU Brand has been getting much attention domestically and internationally.
 In their collaboration with momoco brand, the wonderful gradation of gosu (deep-blue) and careful patterns by dami have given unique & rich expression to the momoco bear.