Yamahei Porcelain
Arita Porcelain Industry is proud of its high of skills and technique, which have been developed step by step by our predecessors in the 400-year-long Arita Porcelain history. Yamahei Porcelain has been pursuing and creating "New Innovative Styles of Arita Porcelain" so that such high level of skills and technique can naturally decorate and match our modern way of life. One of such new styles is Egg Shell.
"Egg Shell" is Yamahei's flagship. In the process of developing Egg Shell, they successfully revived one traditional technique called [Ran-kaku-de], meaning egg-shell technique, which once went extinct from Arita Porcelain's tradition.
By using their own special technique developed for Egg Shell, they were successful in creating their own unique porcelain texture that is beyond the feel of ordinary porcelain.
The momoco bear, decorated with such wonderful texture, gives you the true pleasure of touching it.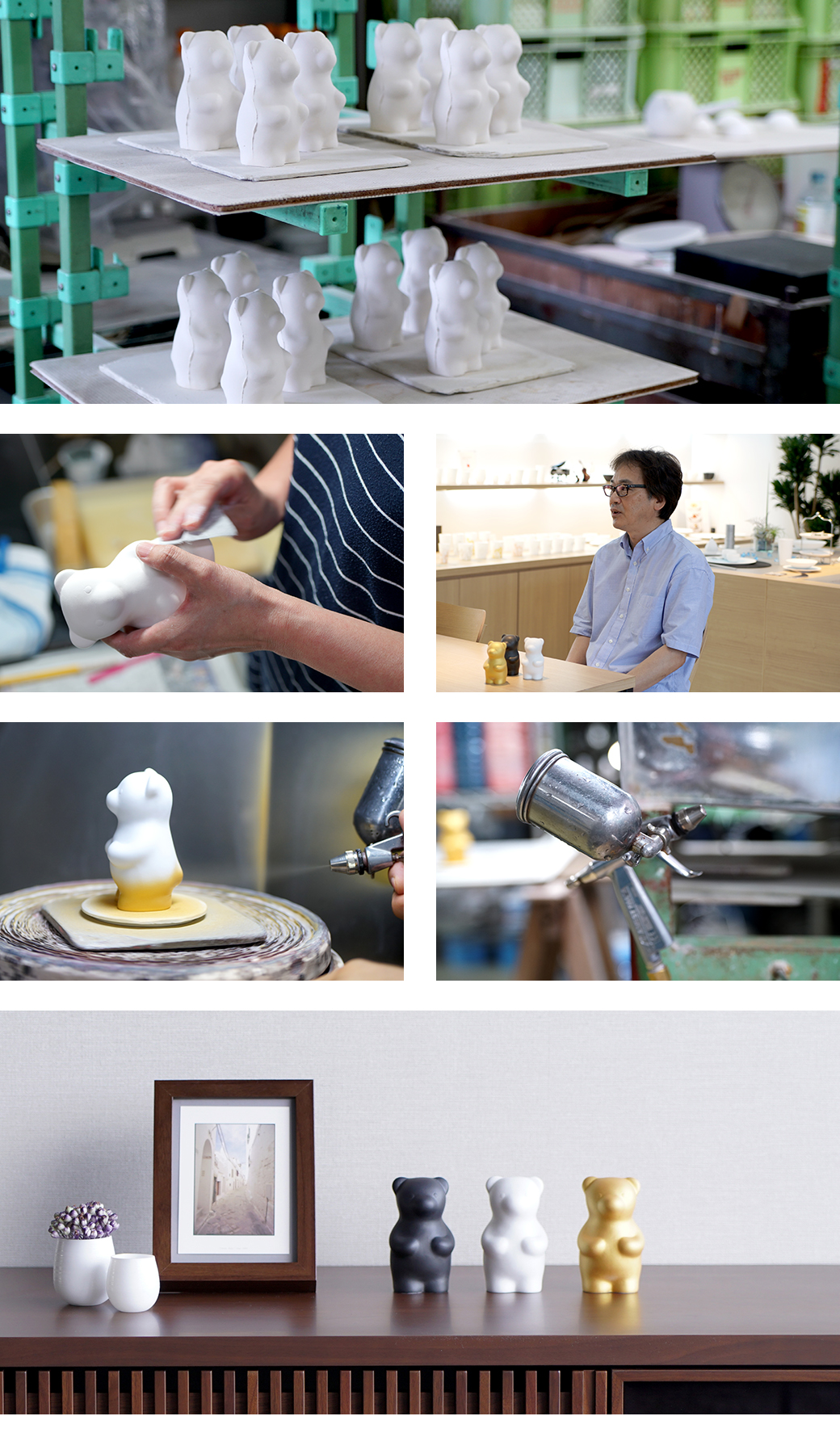 Yamahei Porcelain / Suitou Nakatsuka
Based on its diversified traditions which have been piled up and handed down for more than 400 years, Arita-ware is still now evolving into its future ages. To help Arita-ware further evolve successfully, Yamahei Porcelain uniquely creates new expressions of Arita-ware works by using their own unique techniques and sophisticated designs.

To create this work of momoco bear titled "Sho (Calligraphy)", Yamahei Porcelain specially designed a kanji calligraphy work (meaning "flower") by Ms. Suito Nakatsuka, a well-known kanji calligrapher, and expresses her calligraphy-one of Japanese cultures-in their special design on this momoco bear. The fine and subtle graduation of the Indian ink (sumi) is well-expressed by the design-transfer technique. The mat and white porcelain surface makes the beauty of the kanji calligraphy stand out wonderfully. This work of momoco bear suggests a new and charming way of decorating your room space with Japanese calligraphy.
Kanezen Kiln
Kanezen Kiln is the third generation kiln workshop. When its president took over his family business, he came across a wonderful earthenware work, which inspired him greatly to create porcelain works. Since then, Kanezen Kiln has been creating new types of dishes and tableware for household and professional uses, which are attractive to young generation. Kanezen Kiln follows the tradition of Arita Porcelain as their technical base while creating highly innovative new styles.
Experienced potters at Kanezen Kiln amazingly decorated the momoco bear with its own beautiful glaze.
Through their unique technique seen in the beautifully glazed momoco bear, anyone can feel a wider variety of colors and high quality expressed on Arita Porcelain.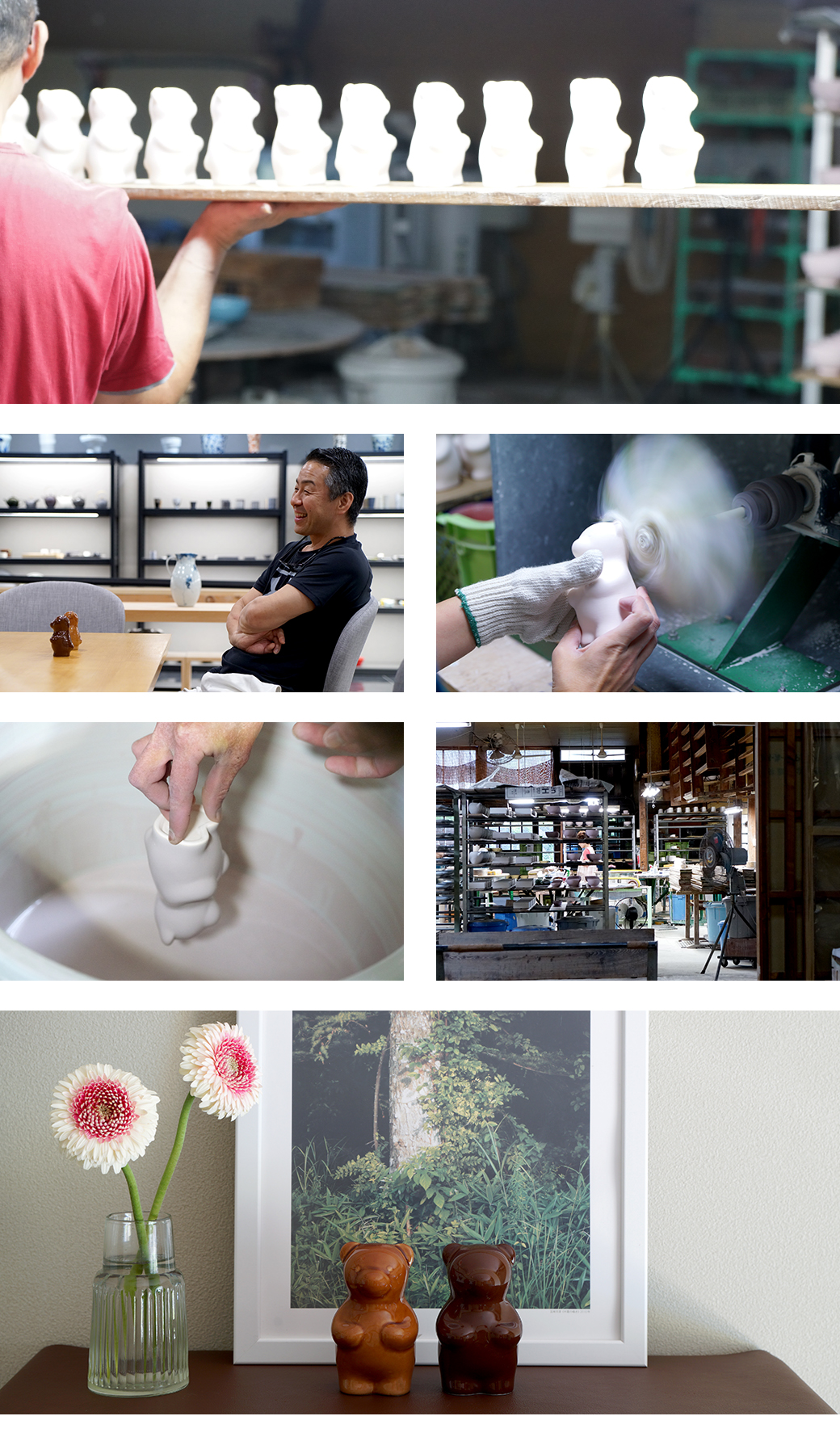 Takasho kiln
 Overlooking a steep mountain, Mt. Kurokami, Takasho Kiln is located in Yamauchi-cho, Takeo City, next to Arita-cho. After setting up their own big study theme titled "Reproduction of Ko-Imari (Old-Style-Imari ware)," Mr. Koyanagi of Takasho Kiln visited various kiln remains repeatedly for further study on Ko-Imari and trained himself as a potter very hard day and night. Then, Mr. Koyanagi has successfully reproduced the colors and patterns of Ko-Imari by adding his own technical twists to the modern techniques and materials. Also Mr. Koyanagi has reproduced the wonderful texture of Ko-Imari.
 As you see, the momoco bear finished by Mr. Koyanagi is decorated with Thin Lapis Lazuli Glaze (pastel-colored blue), which is known as a legendary glazing technique, and Milky White Glaze (milky white). This is the wonderful outcome of his spirit of exploration and techniques.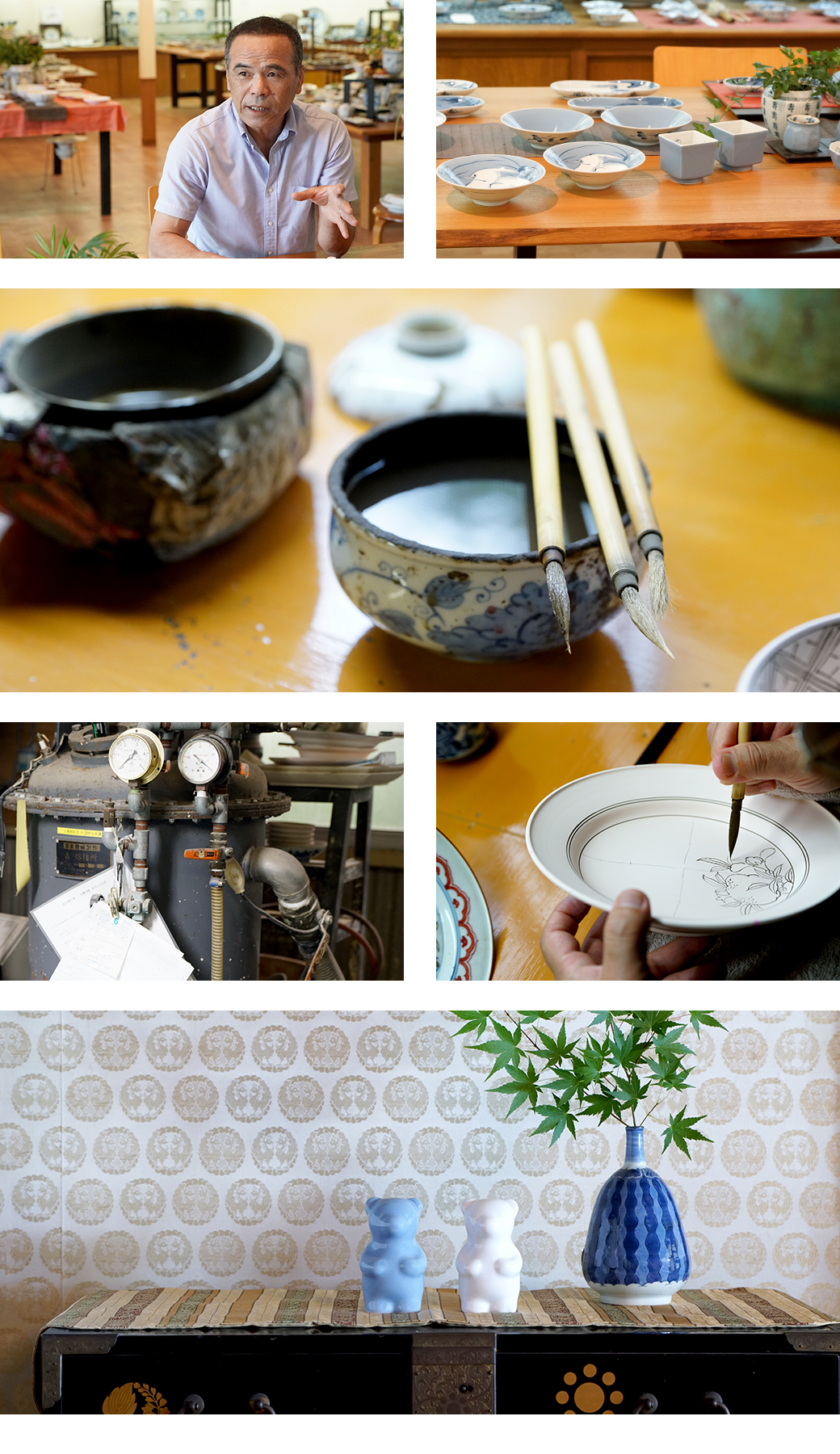 Soekyu Seitosho
 Soekyu Seitosho, (based in Yoshida District, Ureshino City, a little bit away from Arita-cho) is strongly proud of its own unique technique: The use of the gradation and shading of deep-blue pigment called gosu or deep-blue pigment to decorate Arita Porcelain works.
 Recently, Soekyu Seitosho created its new brand named GOSU after so many trials and errors, based on their original craftsmanship and their designer's innovative perspectives. GOSU is based on 1) the careful use of deep-blue shading, 2) dami-traditional technique of overlaying porcelain with thick brush fully soaked with gosu and 3) innovative designs. Their GOSU Brand has been getting much attention domestically and internationally.
 In their collaboration with momoco brand, the wonderful gradation of gosu (deep-blue) and careful patterns by dami have given unique & rich expression to the momoco bear.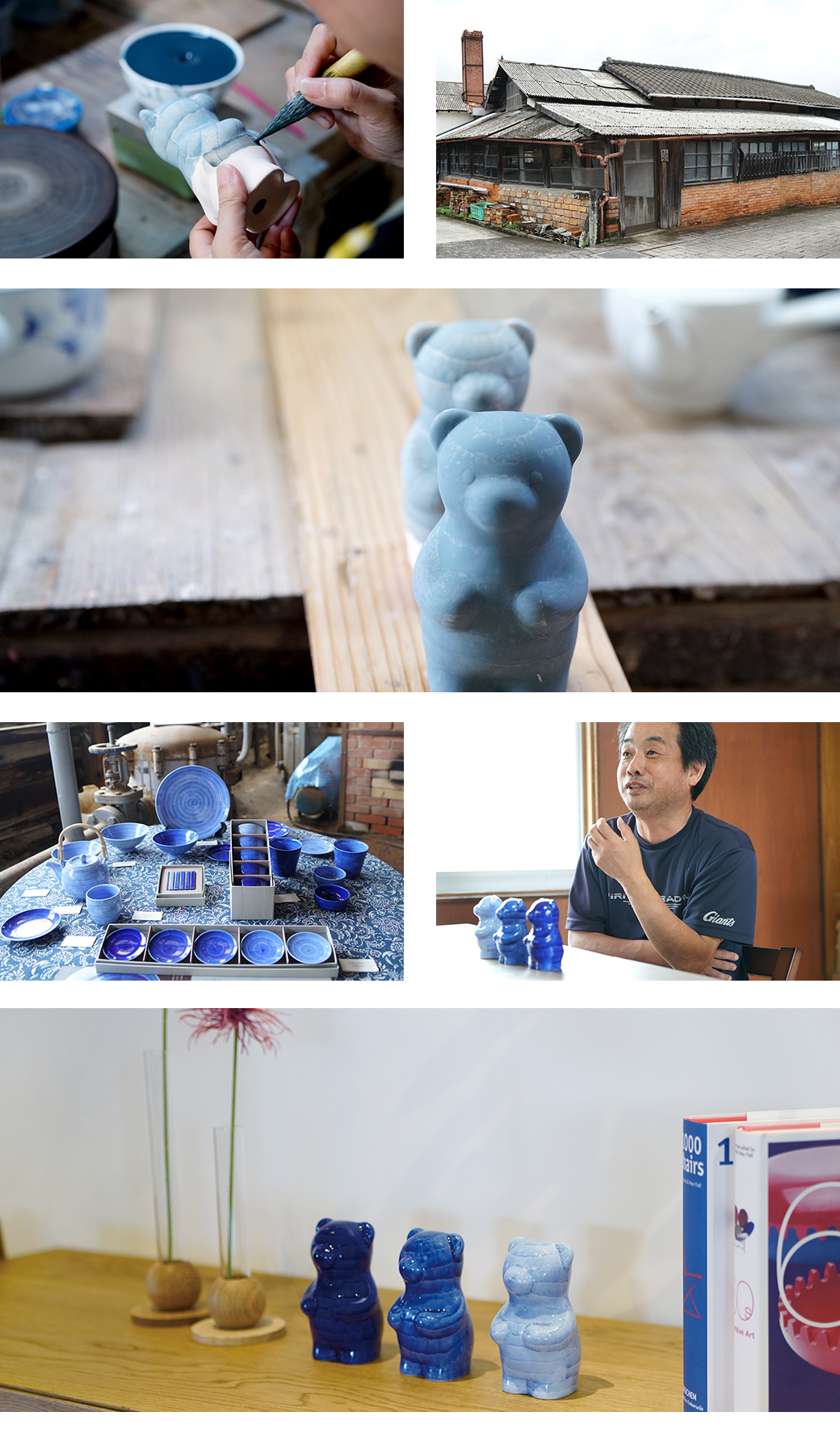 Fukuju Gama
Sekka means snowflakes or snow crystals in English. Snowflakes are also nicknamed as snow-flowers in Japan. Sekka-mon or Sekka patterns are familiar as patternized snow-flowers among Japanese folks. It was late Edo Period when snow-flowers were carefully observed for the first time in Japan's history, and this was followed by the publication of a picture book titled Sekka Zusetsu or Picture Book Illustrating Snowflakes. Since this publication, Sekka patterns became very popular among Tokyoites in Edo Period and used for summer wears (kimonos) and tableware used in summer season, because Sekka patterns made them feel cool even in summer.

Fukuju Gama (Arita Town) is excellent at expressing sophisticatedly-designed snow-flower patterns on their porcelain surfaces. They decorate this momoco bear, titled "Sekka (Snow-Flower)," with sophisticated snow-flower patterns by using their own unique zaffer, glaze and original & gentle sometsuke techniques which are associated with Early Imari-ware. Therefore their porcelain works show their own unique and nice texture. Also, silver decorations on the surface function as good accents, showing something innovative in the Arita-ware tradition. Seasonal feelings among Japanese people and their own sensibility to create unique designs from the nature are expressed in this momoco bear.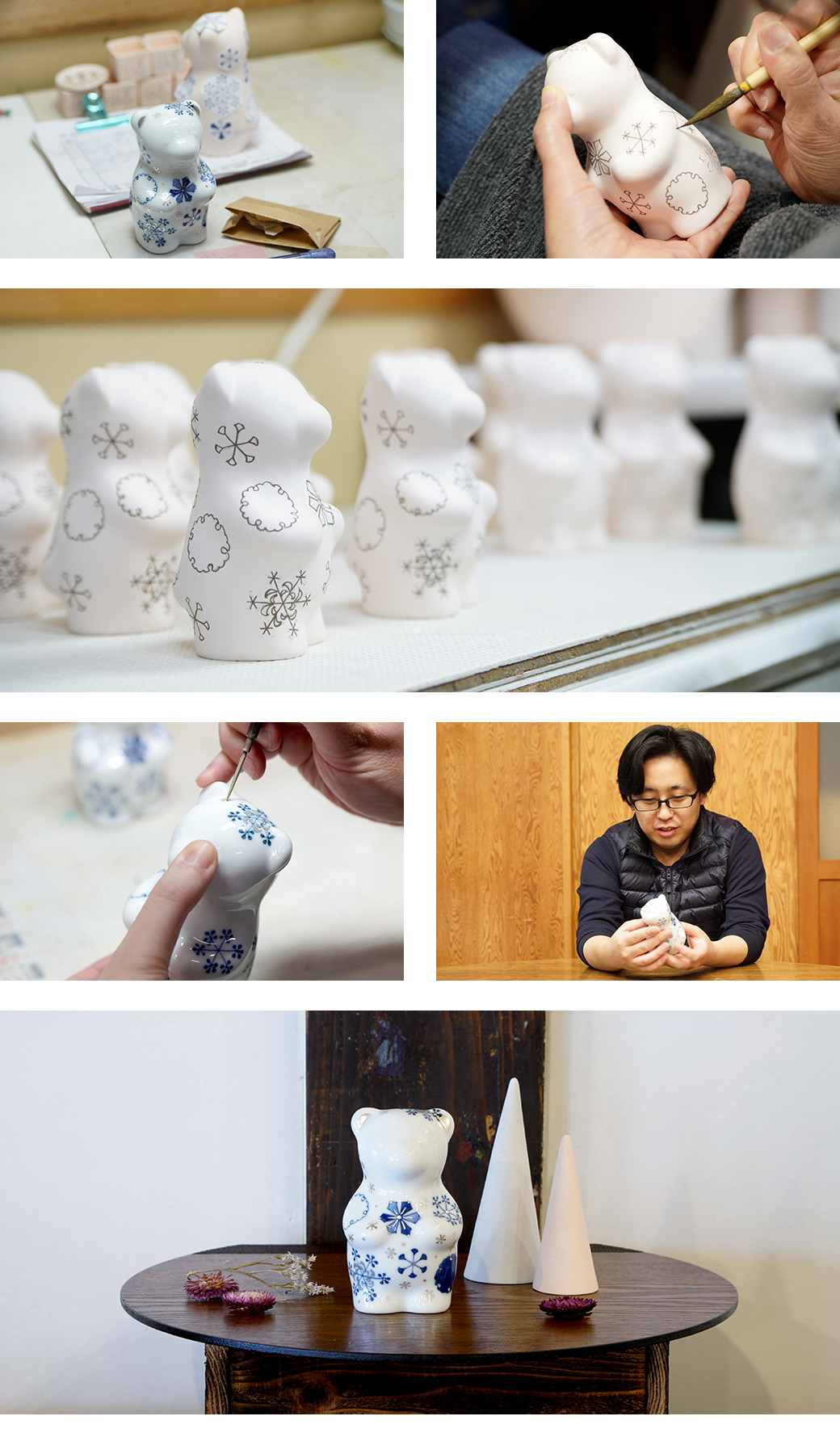 ARITA PORCELAIN LAB / Yuka Uogishi
Traditionally, "Auspicious Omen Motifs" have been believed to bring their users good luck and so these motifs have been used in traditional craftworks. For this work of momoco bear titled "Lucky Ko-Imari," Ms. Yuka Uogishi, a professional designer, specially created its wonderful patterns based on traditional diversified auspicious omen motifs. While adopting the traditional color-matching technique, which is commonly seen in Ko-imari style tradition, Ms. Uogishi also used vivid colors which go well with modernized living spaces. Each of the patternized auspicious omen motifs on this momoco bear shows its own wonderfully elaborate beauty, which is refined by the design transfer technique, and each of the motifs beautifully expresses longevity, happiness, peace and other good wishes.

The total production of this momoco bear is by ARITA PORCELAIN LAB. Since their foundation in 1804, ARITA PORCELAIN LAB has been wonderfully maintaining the tradition of Arita-ware and innovating the tradition with their own high technical capabilities and high-quality assurance for the bright future of Arita-ware.